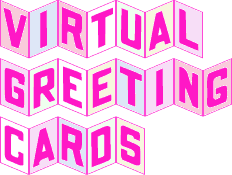 Celebrating a special occasion? A friend is sad and you want to cheer him or her up? Maybe a virtual greeting card will do the trick!
I just love sending V-Cards, and getting one can make me smile for hours. Brighten someone's day. Send a card.
To make your job (I would say pleasure) easy, I searched the net for V-Cards sites for you. I organized them according to catagories. If you know of a V-Cards site that doesn't appear here, please E-Mail me and I'll add it.
Lets start rolling....Pick one:
A version with Frames
No Frames For Me!
Back to the Garden

Back to the Meadow's Map


&copy Racheli Sokol.